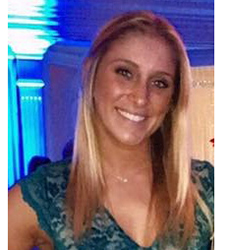 Enterprise Rent-A-Car has selected SUNY Oneonta student Allison Ravit to receive its Enterprise Scholarship Award.
Ravit, who is majoring in business economics at SUNY Oneonta, was a management trainee intern this past summer at Enterprise.
"Everyone that I worked with was extremely helpful," she said, "and I came to understand that it's a company where people really grow individually while also helping the company. I never felt like an 'intern' because I was always given tasks that other management trainees did, and even tasks that my assistant branch manager and branch manager were responsible for. I learned much more than I had expected to in such a short period of time."
Ravit said her most memorable experience as an intern was a marketing project competition where she teamed up with several other interns to focus on a body shop that had been splitting its referrals between Enterprise and a competitor, Hertz. The group organized a grand opening event for the body shop's new mechanic shop, renting an ice cream truck and handing out Enterprise goods with the free ice cream. By bringing in more customers, they built a much better relationship with the body shop and increased its referrals to Enterprise. After presenting the project at regional headquarters, Ravit's team won the competition.
"It was extremely rewarding not only to win based on the vice president's, president's and area managers' votes, but mostly to see what an impact we had," Ravit said. "Just seeing how five interns came up with a strategy and within three months increased our area's referrals that much really showed how much the internship had taught us and how we really contributed to the company."
 The Enterprise Scholarship Award is given to an intern with the best overall performance. "The recipient must exemplify outstanding customer service, sales ability, willingness to learn and display a 'team' mentality," said Jessica Carroll, talent acquisition manager at Enterprise. "In addition to these skills, each intern must also summarize efforts of a marketing project to our regional vice president, Eric Schonhoff. Not only did Allison exemplify outstanding skills, but she delivered an excellent presentation."
Ravit was awarded third place, receiving a $500 scholarship to be applied toward her education. In addition to this accomplishment, she has been offered a full-time position as a management trainee after she graduates from SUNY Oneonta.