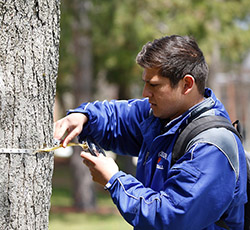 SUNY Oneonta has earned 2016 Tree Campus USA recognition for its commitment to environmental stewardship on campus and in the greater Oneonta community. Tree Campus USA, a national program launched in 2008 by the Arbor Day Foundation, honors colleges and universities and their leaders for promoting healthy trees and engaging students and staff in the spirit of conservation.
To obtain this distinction, SUNY Oneonta has met the five core standards for sustainable campus forestry required by Tree Campus USA, including establishing a tree advisory committee, creating a campus tree-care plan, dedicating annual expenditures for a campus tree program, holding an Arbor Day observance and sponsoring student community service projects.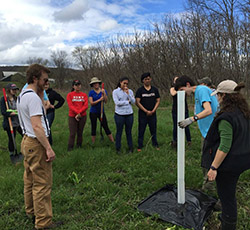 Environmental science major Nate Woolley worked with Associate Vice President for Facilities Planning Tom Rathbone and Head Grounds Supervisor Mike Chase to write a tree-care plan for the campus. In conjunction with the plan's development, students in a dendrology class taught by Assistant Professor of Biology Sean Robinson conducted a tree-mapping project that included identifying campus tree species and recording their diameter and breast height. SUNY Oneonta allocates at least $20,000 per year on tree care maintenance, including fertilization, tree removal and pruning, said Sustainability Coordinator Hannah Morgan.
The college's commitment to environmental stewardship extends beyond campus. Last year, Morgan and student volunteers collaborated with the Upper Susquehanna Coalition on a riparian buffer zone conservation program aimed at preventing erosion, reducing the chance of flooding, and creating a better habitat for aquatic life. During service-learning projects in May and October, the students planted 2,000 trees and shrubs in streambeds in Morris and Cooperstown.