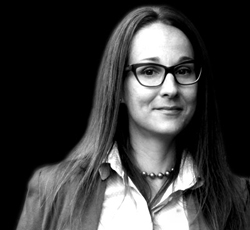 SUNY Oneonta creative writing instructor April L. Ford has won a Pushcart Prize for her short story "Project Fumarase." The story, which was published in New Madrid Journal in summer 2014, will appear in the 2016 Edition Pushcart Prize anthology, due out Nov. 2.
The Pushcart Prize is a literary prize created by Pushcart Press to honor the best poetry, short fiction and essays published in non-commercial, small presses the previous year. Magazine and small book press editors are invited to nominate up to six works. Annual anthologies of the prize-winning works have been published since 1976.
Set in Palmyra, NY, "Project Fumarase" explores the aftermath of a fundamentalist cult raid. Ford got the idea after watching TV coverage of the Warren Jeffs/Zion Ranch raid and becoming obsessed with the HBO "Big Love" TV series in summer 2011. 
"That sort of fascinated me," she said. "On the one hand, we'll watch the news on TV and we'll be appalled that the mothers are being separated from their children, but what do we want to do? We want to take the children from their mothers and put them in foster care. It's heartbreaking, and I wanted to sort of explore that in the story."
Fumarase is an enzyme related to human growth and development. Children born in communities where in-breeding is common can suffer from developmental issues due to fumarase deficiency.
"Project Fumarase" appears with a different title, "Bananas and Limes," in Ford's debut story collection, "The Poor Children," which won the grand prize in the Santa Fe Writers Project 2013 Literary Awards Program for Fiction.
"It's dark," said Ford. "It's a little more hard-boiled than the other stories, where the language and prose have more of a lyrical, almost poetic feel. The story itself is almost like a crime-scene investigation. I wanted it to feel very concrete."
Ford grew up in Quebec. After working as a technical writer, magazine editor and writing mentor for incarcerated teens in Montreal, she became serious about fiction writing in 2005, when she wrote the first of the seven stories in "The Poor Children" in just three days.
"I like just being able to sort of get into someone else's life," she said. "You go into it with what you know, but you also get to explore stuff you don't know. And you make stuff up. You get to invent people, and then they become real."
After moving to Oneonta with her husband, Associate Professor of English Jonathan Sadow, Ford began teaching at SUNY Oneonta in 2010 as an adjunct lecturer in French for the Foreign Languages & Literatures Department. In 2012, she moved to the English Department, where she teaches introductory creative writing and composition courses.
Ford holds an MFA in creative writing from Queens University of Charlotte and has spent time at the Virginia Center for the Creative Arts as a Robert Johnson Fellow, and at the Ucross Foundation as a writer in residence. She serves as managing editor of Digital Americana Magazine and has written two novels, one of which is expected to be published next year.