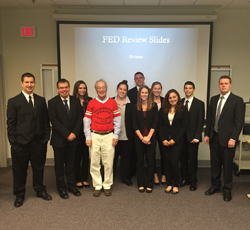 A team of SUNY Oneonta students won an honorable mention award at the 2015 College Fed Challenge competition this week. This was the third consecutive year that SUNY Oneonta has made it to the semifinals of the intercollegiate monetary policy competition, held at the New York Federal Reserve Bank.
Each team is required to prepare a 15-minute presentation consisting of a discussion of current economic conditions, risks facing the economy, a forecast of where the economy is heading over the next year, and a recommendation for monetary policy. This is followed by a 15-minute question-and-answer session before a panel of judges from the New York Federal Reserve Bank on the team's presentation and their overall knowledge of macroeconomics, monetary policy and the Federal Reserve System.  The first round of the competition took place on Oct. 30. SUNY Oneonta advanced to the semifinals on Nov. 16.
"The judges' comments in both rounds indicated that the team worked very well together in answering questions and addressed all potential concerns with respect to their forecast and monetary policy recommendations," said Associate Professor of Economics David Ring, the team's faculty adviser.
A total of 32 schools competed in the Liberty Street Division of the College Fed Challenge in the Second District (New York) of the Federal Reserve System. The Liberty Street Division is for teams that have at least one member who has taken a course in economics beyond the Principles level.  Eight teams advanced to the semifinal round. Two teams advanced to the finals: Manhattan College and Pace University.  Pace won the competition and will advance to the national championship round in Washington on Dec. 2 to defend the title it won last year.
The 2015 SUNY-Oneonta College Fed Challenge team was made up of Elizabeth Benedict, Lauren Bracco, Michael Hodges, Andrew Jensen, Daniel Marino, Jennifer Rushlow, Angelica Salvati, Colleen Shannon, Derek Smith and Michael Snyder.