Four SUNY Oneonta employees honored by the State University of New York for excellence in their fields. 
Associate Professor of Meteorology and Climatology Dr. Melissa Godek received the Chancellor's Award for Excellence in Teaching; Director of Campus Activities and Leadership William (Bill) Harcleroad received the Chancellor's Award for Excellence in Professional Service; and Interim Coordinator of the Teaching, Learning, and Technology Center Chilton Reynolds received the Chancellor's Award for Excellence in Professional Service. Ed Beck, instructional designer in the Teaching, Learning and Technology Center, has earned a 2021 SUNY Faculty Advisory Council on Teaching & Technology (FACT2) Excellence Award for Instructional Support.
"When one member of our campus community is recognized in this way, it's an honor for our entire institution," said SUNY Oneonta Acting President Dennis Craig. "We are very proud of Melissa, Chilton, Bill and Ed. Their expertise, commitment to excellence, and dedication to our students and community are notable, and they are worthy of this impressive recognition."
The Chancellor's Awards for Excellence confer recognition for consistently superior faculty/staff achievement and encourage the ongoing pursuit of excellence. These awards underscore SUNY's commitment to sustaining intellectual vibrancy, advancing the boundaries of knowledge, providing the highest quality of instruction, and serving the public good.
More information about this year's Chancellor's Award winners:
Since joining SUNY Oneonta in 2010, Dr. Melissa Godek has taught a wide variety of courses, from intermediate to advanced, and is known for her engaging teaching techniques, including interactive lectures, debates and research projects, as well her willingness to mentor students conducting undergraduate research. Dr. Godek is an active member of the American Meteorological Society and the American Geophysical Union, regularly attends national and international conferences, and acts as associate editor of the International Journal of Climate Change and a referee for the American Journal of Undergraduate Research. Five of her published papers have appeared in Atmospheric and Climate Science, Northeastern Geoscience and The Compass. Dr. Godek has attended workshops with the National Weather Service and is a reviewer of educational resources submitted to the Climate Literacy and Energy Awareness Network. She is also a talented grant writer and served as a co-principal investigator on the extensive SUNY Replication Project. 
 
Since joining SUNY Oneonta 16 years ago, Bill Harcleroad has transformed the college's offering of student activities and programming by coordinating and promoting more than 3,000 co-curricular opportunities and events each year. He serves as advisor to the Activities Council and Student Association, helping craft policy, and has served on more than 40 campus committees. Bill's leadership and service across divisions have helped expand equity and make SUNY Oneonta a more inclusive, welcoming community. Outside of the college, Harcleroad is an active member of the Association of College Unions International (ACUI) and the National Association of Campus Activities (NACA), and president of SUNY College Union Campus Activities Professionals. He frequently presents and volunteers at regional, national and international conferences and has coordinated more than 15 conferences, and serves on planning committees for two international conferences. He has published several articles in the ACUI Bulletin and in Campus Activities Magazine, has served as an external reviewer for three campus activities programs, and most recently, coordinated the first-ever SUNY-wide virtual music festival. He has earned several prestigious awards, including NACA's Outstanding Campus Activities Professional award.
 
In his nine years at SUNY Oneonta, Chilton Reynolds has become known for the support he provides campus users of instructional technology and for his ability to lead major explorations of new technology or pedagogy. In his role with the Teaching, Learning, and Technology Center (TLTC), Reynolds supports innovation in teaching and learning on campus. As the primary contact for Blackboard, he supports the training of faculty, troubleshoots advanced issues, and collaborates with IT staff to ensure appropriate maintenance and system upgrades. Reynolds also serves as coordinator of the campus professional development program and is responsible for the growth and success of the college's Collaborative Online International Learning (COIL) program, supporting international educational experiences for faculty and their students. Reynolds' contributions to the broader SUNY community are vast. He is known across the system as an expert in emerging technologies and has been involved in a variety of initiatives, serving as a committee member in the planning and implementation of the SUNY Conference on Instruction & Technology (CIT), chairing the planning committee when SUNY Oneonta was host, and reviewing proposals. He also was part of the group that brought the Professional and Organizational Development (POD) regional conference to SUNY.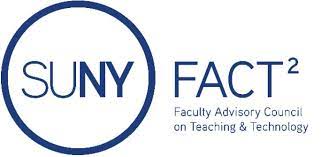 FACT2 Excellence Awards are system‐level honors conferred to acknowledge and recognize consistently noteworthy achievements and to encourage the ongoing pursuit of excellence. These awards underscore SUNY's commitment to the use of technology to support instruction, research and service. FACT2 is an advisory body to the SUNY Provost, advocating and acting as a resource for University stakeholders at the nexus of technology, pedagogy and research.
The FACT2 Excellence Award recognizes Ed Beck's leadership on campus and across SUNY in a myriad of distance education and open learning initiatives, including spearheading the successful SUNY Oneonta Open Educational Resources (OER) program. The award also recognizes the critical expertise and unflagging support Beck provided to faculty during the pandemic-driven pivot to remote learning, working with care and dedication on creative solutions that enabled effective online teaching and online student engagement. Among other meaningful accomplishments, Beck has led the SUNY Create Initiative, which provides a suite of resources and tools that support web literacy and content creation. Notably, SUNY Create provides the platform for the SUNY Oneonta "The Semester of Living Dangerously: Pandemic Diaries" site, of which Beck is designer, developer and editor.