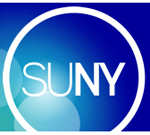 Four SUNY Oneonta seniors are among a select group of State University of New York students chosen to receive the 2017 SUNY Chancellor's Award for Student Excellence. SUNY Chancellor Nancy L. Zimpher presented the awards to the students during a reception in their honor Wednesday, April 5, at the Empire State Plaza Convention Center in Albany.
"It is my honor to celebrate the achievements of students who have surpassed SUNY's highest standards of academic excellence and leadership both on and off campus," said Zimpher. "Every student we recognize has demonstrated a strong commitment to their degree program, home campus, greater community, and much more. Congratulations to all of the students receiving this year's award."
The Chancellor's Award for Student Excellence is the highest honor that SUNY bestows upon students. It is presented annually to SUNY students who demonstrate academic excellence and integrate it with accomplishments in other areas, such as leadership, career achievement, campus involvement, athletics, community service, or creative and performing arts.
The four SUNY Oneonta students selected to receive the 2017 SUNY Chancellor's Award for Student Excellence are:
Daniela Gutierrez of Hampton Bays, NY
Gutierrez is a first-generation bilingual student who has excelled in both academic and co-curricular activities. A double major in communication studies and Spanish, she has held numerous leadership positions, including serving as an academic peer mentor and an orientation leader. She also contributed to an award-winning book of autobiographical vignettes by Latino students and alumni. After graduation, she plans to pursue her passion for service and education, either as an AmeriCorps member or through an advanced degree in education or museum studies.
Spriha Sanjay of New Delhi, India
Sanjay is a psychology major and international student who has demonstrated excellence both in the classroom and as a student leader. She achieved SUNY Oneonta's highest leadership program level by serving as a peer mentor and helping to recruit and welcome new students. She earned numerous dean's list honors and completed a five-credit internship developing campus programming to raise awareness about safe sex and sexual assault.  After graduation, Sanjay plans to pursue a master's in industrial or organizational psychology.
Rachael Shine of Clifton Park, NY
Shine is a psychology major who has established herself as a top student-athlete at both the conference and national level. She earned multiple NCAA Division III All-American honors and set SUNYAC records in the 800- and 1,500-meter indoor and outdoor track events. Coupled with this are her leadership in the St. Jude Giants student club and her excellent academic performance, which has resulted in two honor society inductions and consistent recognition as a scholar athlete.
Jillian Young of Sidney, NY
Young is a meteorology major who has earned national recognition as an undergraduate scholar in the field of meteorology. She was selected to receive three highly competitive national scholarships, and she interned in two offices of the National Weather Service. In 2014, she planned and co-led social media efforts for the American Meteorological Society annual meeting, where she presented her original research on lightning this year. After graduation, Young plans to pursue a master's degree with a focus on hydrology.
Since 1998 when the Chancellor's Award program was implemented, 84 SUNY Oneonta students have received the SUNY Chancellor's Award for Student Excellence.