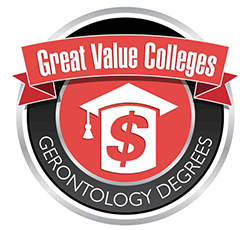 SUNY Oneonta's Gerontology Studies program is among the top 20 in the country, according to a new ranking by Great Value Colleges, an online college-planning resource whose mission is to "help students get the best possible education for their money."
SUNY Oneonta is #20 on the list, which was created based on factors such as master's and doctoral degree opportunities, research opportunities, and internship and scholarship opportunities using data collected from the NCES College Navigator database, Payscale.com and school websites.
"As the baby boomer generation continues to age, more career opportunities are becoming available for those who wish to work with the elderly population," the rankings editors wrote. "To prepare these budding professionals, colleges across the country are adding gerontology degrees to their program offerings. Students looking for the right gerontology school should consider tuition costs as well as program features such as internship and research opportunities, academic rigor, and faculty support. To aid gerontology degree hopefuls in this pursuit, we've created the following list of 20 great value colleges for gerontology in 2016-2017."
The rankings editors noted the individualized instruction and mentoring offered to Oneonta students majoring in Gerontology Studies, one of three majors offered by the Sociology Department. Along with up to 42 semester hours of core courses in sociology and research methodology, students take gerontology electives such as Sociology of Death and Dying, Families and Aging, and Nutrition Across the Lifespan. To meet graduation requirements, students must complete a senior seminar or field experience in Sociology.