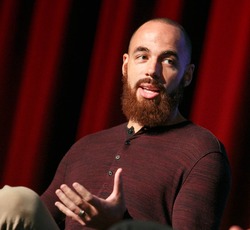 Music industry executive Noah Rakoski '07 returned to SUNY Oneonta last week to share secrets of success with aspiring performers, songwriters, engineers, marketers, managers and producers.
His biggest piece of advice: "You definitely have to be a go-getter. There's no other, better way to put it. If you're passive, it just doesn't work. The doors don't come to you. You really have to go to them and knock on them and kick them down."
Rakoski is head of Digital Marketing & Innovation at Evolve Media & Music Group in Hollywood, Calif., where he leads digital and technology efforts for Grammy and Platinum award-winning producer Rodney "Darkchild" Jerkins' multiple companies in partnership with Capitol Records.
After seven years of working on the East Coast in artist management & repertoire, digital media, marketing and technology, Rakoski moved to Los Angeles in 2014 with his wife, Aubrey, also a 2007 Oneonta graduate.
During his three-day visit, Rakoski spoke in several music industry classes and met with students informally at a coffee mixer and late-night downtown performance by the college's Funk Band, in which he played sax as an Oneonta student.
Rakoski's return culminated in his induction into SUNY Oneonta's Music Hall of Fame on Thursday night. During a Q&A session facilitated by Associate Professor of Music Jeremy Wall earlier that day, Rakoski shared his journey from 3-year-old pot-and-pan clanger to saxophonist, beat boxer, producer, manager, entrepreneur and executive.
He said every class he took as a music industry major at SUNY Oneonta gave him skills he has used in the real world. "The second I left college I was using marketing communications, I was using contract negotiations, legal issues, I was using music theory--because I had to talk to songwriters and producers, and if you didn't know what they were talking about, you were out of the studio."
He encouraged Oneonta students to stand out, work hard and seek out opportunities to learn in their internships and first jobs. Rakowski landed a Jive Records internship that led to a full-time job in artist management. He then began to develop pop and urban acts, discovering a passion for creating start-up companies focused on innovative technology and marketing.
In late 2012, he and his business partner set out on a new venture that focused on talent management and monetization for online artists, actors, comedians and content creators. Their firm quickly became one of the fastest rising multichannel networks, catching the attention of major networks. Rakoski and his partner closed a merger and acquisition agreement with Maker Studios, where they became executives and shareholders.
In 2013, at over 9 billion views a month, Maker Studios' success prompted multiple acquisition bids, and the business was sold in 2014 to The Walt Disney Company for $500 million.
Rakoski encouraged students to persevere in following their instincts and seeing their ideas to fruition.  "I actually had executives in the music industry say to me, 'No one will watch music videos online.' … You're going to meet resistance from the traditional and higher ups, and the best thing that you can do is just assume that every 'no' means 'no from me' or 'not right now, but I want you to go figure out how to do it and bring it back to me.'"
When asked if there was one moment where he considered himself to be successful, Rakoski said success is "an ever-evolving and somewhat unattainable goal" and urged students to focus on happiness instead.
"Since I left high school where I weed whacked, and I think I worked at McDonald's for a little bit… I knew I needed to do something in my life that I love and that I'm passionate about.
"So do that. Because if you do that, you'll be happy every day, even if things aren't working out. There will be ups and downs--this industry is the biggest rollercoaster--but you'll be happy if you just do what you love every day."