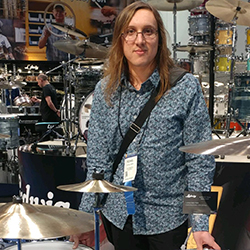 SUNY Oneonta senior Michael Sanbeg was one of 60 college students from across the country selected to receive the National Association of Music Merchants (NAMM) Foundation's prestigious President's Innovation Award.
The annual award for outstanding college music students exploring careers in music education, music business and/or music products provided a stipend for Sanbeg to attend The 2017 NAMM Show from Jan. 19-22, 2017, in Anaheim Calif. Award recipients received special badges and were honored at a reception on Jan. 21, where they met NAMM President and CEO Joe Lamond.
Sanbeg was one of 14 SUNY Oneonta music industry students at the annual global music products tradeshow, which featured 1,800 exhibits and more than 6,000 brands of sound, lighting and recording gear; instruments; sheet music; gadgets and more.
"At NAMM, you get a glimpse into the future," said Music Department Lecturer Nancy Tarr, who accompanied the students on the trip. "You get an opportunity to lay your hands on brand-new instruments that haven't even been marketed yet or are just hitting the marketplace, and technology that's just beginning to emerge."
From microphones that record 360 sound for immersive virtual reality applications, to a credit-card-sized digital instrument for kids, the students saw all kinds of cutting-edge products. They also tested out new gear, met some big-name DJs, heard lots of live music, and saw Stevie Wonder, John Mayer and Andy Grammer walk through the exhibit hall.
SUNY Oneonta Associate Professor of Music Joe Pignato was also in attendance as an exhibitor artist and Association for Popular Music Education board member. As an endorser for Taye Drums, Pignato spent time at the Taye exhibit, demonstrating the drums and meeting with Taye personnel, dealers, industry people, and those walking the exhibition floor.
"The most exciting part about the NAMM conference is meeting the people behind the business," Sanbeg said. "NAMM brings together people from all over the world to share their love of music and music products: artists, manufacturers, music store owners and many others. It felt great to be a part of it."
The show is for NAMM members, but music educators and college students are eligible to attend through the NAMM Foundation's GenNext professional development program, presented in conjunction with the College Music Society.
In addition to browsing exhibits, the students attended workshops on topics such as social media, instruments, technology, and sales and marketing. They also brought resumes and networked with professionals in the particular fields they hope to enter. In previous years, Oneonta students have landed internships through connections they made at the event.
Sanbeg is a drummer who has played in SUNY Oneonta's Zappa Band, Funk Band, Jam Band and Experimental Music Group, as well as his own bands, Gallons of Pork and FigureHead. He is doing an internship at ACM Records in Fair Lawn, N.J., this semester and hopes to enter the field of music merchandising and marketing after graduation.
All 14 students received grants from the Caroline '67 and David D'Antonio Undergraduate Student Travel for Excellence Fund, which helps defray travel costs for students presenting research and attending conferences, and four students received additional funding through SUNY Oneonta's Student Travel Excellence Program.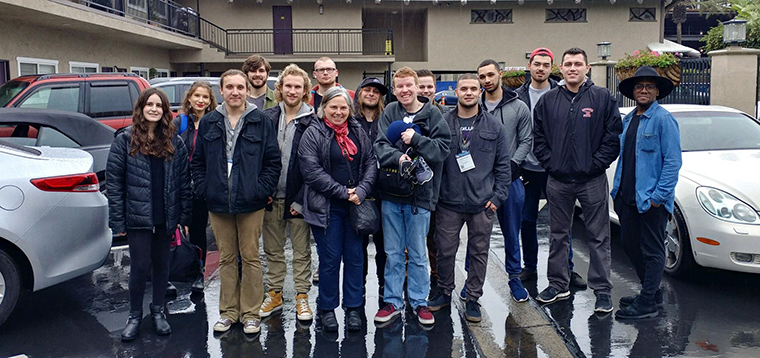 Music Department Lecturer Nancy Tarr (front row, center) and 14 music industry students at The 2017 NAMM Show in Anaheim, Calif.