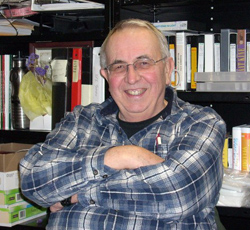 A series of recordings acquired by Don Hill, professor of Anthropology and Africana/Latino Studies, has been selected for induction into the Library of Congress National Recording Registry. Librarian of Congress James H. Billington recently named to the registry 25 new sound recordings that have been recognized for their cultural, artistic and/or historical significance to American society.
Hill's contribution is "The Vernacular Wax Cylinder Recordings at the University of California, Santa Barbara Library (c. 1890-1910)" Offering a rare and often-revealing glimpse into the lives of regular people, the recordings consist of more than 600 homemade cylinder recordings made primarily in the 1890s, 1900s and 1910s. The core of the collection is based on several decades of purposeful acquisition by Hill and sound historian David Giovannoni. From its commercial introduction in the 1890s through its demise in the 1920s, the cylinder phonograph allowed its owners to make sound recordings at home. Their "snapshots" of everyday life are perhaps the most authentic audio documents of the period.
Hill received his Ph.D. in Anthropology from Indiana University. From 1973-1975, he was a curator of education at the American Museum of Natural History, where he ran the first major Museum Minority Training Program and helped develop what later became the Margaret Mead Film Festival. He has taught courses in Africana Studies, cultural anthropology and Caribbean folklore and ethnomusicology for more than 30 years, written or co-authored four books and many scholarly articles, and published original photographs, field records, notes for commercial recordings, reviews, encyclopedia entries and magazine articles.