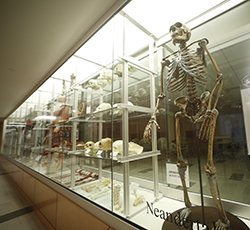 SUNY Oneonta's completely renovated Physical Science Building officially opened on Wednesday, Jan. 18, the first day of classes for the spring semester.
See photos of the renovated building
"This is a really, really important day for us," said college President Nancy Kleniewski, during a ribbon-cutting ceremony Wednesday afternoon. "STEM (Science, Technology, Engineering and Math) is so critical to the future of our society, and this is one of the key places on our campus where STEM happens."
The $27.5 million renovation project, which began in summer 2014, created new, state-of-the-art teaching and research spaces for the college's departments of Anthropology, Chemistry & Biochemistry, and Physics & Astronomy, including: an anthropology teaching gallery that will allow students to work in a museum-quality space as part of their everyday coursework; an anthropology curation room with high-density storage; new teaching laboratories and research spaces for anthropology, chemistry & biochemistry, and physics; and the campus's first Technology Enabled Active Learning (TEAL) classroom--a high-tech space specially designed to promote hands-on, collaborative learning activities.
The building is on target to become the college's first to meet the sustainability standards for Leadership in Energy and Environmental Design (LEED) Gold certification. LEED certification provides independent verification of a building's "green" features. Sustainability features of the renovated building include:
Energy: Energy efficiency has been improved through the installation of chilled beamed systems, energy-recovery systems, daylight sensors, LED fixtures, new insulation and new windows.
Water: Low-flow water fixtures reduce the building's water consumption by 37.5 percent.
Waste: During the construction project, approximately 50 percent of the construction waste was recycled or salvaged.
Sustainable grounds: The building roof drainage is transported to a bioswale, which slows and filters the stormwater runoff onsite.
Education: The building has an energy dashboard, which is an interactive tool that displays contextualized real-time energy and water consumption building data and will be used to promote conservation efforts.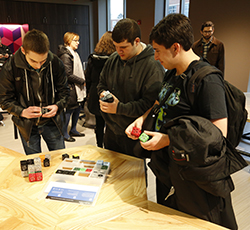 "Science on display" is a theme of the redesigned building, with lots of window-filled classrooms and labs, and airy, open spaces for group collaboration.
The redesigned A.J. Read Science Discovery Center, which was previously located in the basement of the building, has moved to the first floor and will offer hands-on learning for students of all ages in a bright, open space. For more than two decades, future teachers and other student volunteers have shared their love of science with children from the community during special "Science Saturdays," visits by school groups, and other events.