The SUNY Oneonta A.J. Read Science Discovery Center will re-open to the public on March 1, 2017, after extensive renovations and a renewal of its original mission.
Since its opening by Professor Al Read in 1990, the Science Discovery Center has helped people across the region connect with science through self-discovery and play. The newly renovated center preserves and expands on that mission, which now embraces all the sciences and mathematics. New exhibits such as a functioning telegraph and a set of Cubelet robots will join renovated classics that many in the community will remember, like the acoustic tube that enables one to "hear" the speed of sound.
Venkat Sharma, dean of the college's School of Natural and Mathematical Sciences, envisions the center as one of the school's primary outreach efforts.
"The center will embrace the concept of STEAM, which is science, technology, engineering, arts and mathematics. The center's exhibits and programming will reflect the connections between these key fields, and the broad skills our young people will need to excel in the future."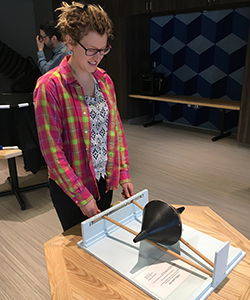 As in years past, the center will welcome field trips from area schools. Outreach Coordinator Doug Reilly plans a robust programming schedule and a lot of community accessibility. "We'll have open hours five days a week and we'll run special events like science story hours and workshops, particularly on Saturdays," Reilly said. "We are here for people of all ages, backgrounds and abilities – anyone who has a little spark of scientific curiosity. We will hold special events aimed at adults, too."
The center also plans to collaborate with community organizations and businesses, starting with the Green Toad Bookstore, which will feature a shelf of books selected by center staff on topics ranging from octopuses and trees to Galileo and the Space Race.     
SUNY Oneonta students will play an essential role at the center, welcoming and orienting visitors, running mini-demonstrations and, alongside faculty from across the disciplines, helping to design new, interactive exhibits. "Visitors to the center will see college students engaged with STEAM, contributing to research and also communicating the advancements in these fields to the public," said Sharma.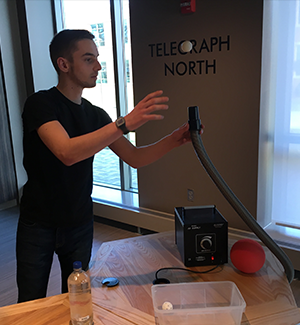 One of the center's inaugural projects puts the "Arts" in STEAM into action. Reilly is collaborating with computer art major Emily Leo and Assistant Professor of Art Katherine Spitzoff to create a graphic novel for the center's walls that will feature the seldom-told stories of women and people of color in the STEAM fields, particularly astronomy and space science. "It is really important to us that our visitors see diverse representations of what a scientist looks like. Science is for everyone, and needs the input of people from diverse backgrounds," Sharma said.
"Astronomy and Space Science" is the center's first biannual theme. Every two years, the center will feature a different STEAM field in its wall graphics and in a special section of exhibits. Possible future themes include genetics and materials science. The center will also rotate the permanent exhibits it has on display, especially as it continues to develop new exhibits and rehab the classics designed by Read.
"Repeat visitors will always find something new and exciting at the A.J. Read Science Discovery Center," said Reilly."Like Mark Watney from 'The Martian,' we use science as a verb. Come science with us!"
Starting March 1, the center will be open Tuesday-Saturday from 10 a.m. to 3 p.m. Admission is free and the center's exhibits are designed for ages 4 and up. More information can be found on the center's website: http://www.oneonta.edu/sdc/