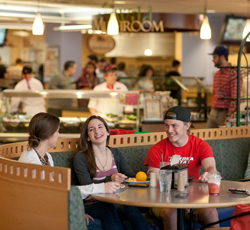 Sodexo Dining Services at SUNY Oneonta has been named an "environmental champion" by the U.S. Environmental Protection Agency for its work to reduce food waste and other sustainability projects.
Oneonta's Sodexo was among about 40 recipients in New York, New Jersey, Puerto Rico, the U.S. Virgin Islands and eight Indian Nations selected to receive a 2016 Environmental Champion Award for outstanding commitment to protecting and enhancing quality and public health. The awards were presented at the EPA regional office in Manhattan during a ceremony May 13.
"These individuals and organizations from across New York are an inspiration, encouraging us to do our best to protect the environment every day," said Judith Enck, EPA regional administrator.
Recycling and waste-cutting initiatives have become second nature at SUNY Oneonta, said Dining Services General Manager Jimmy Hamm.  Recent projects include:
reducing food waste by 15 percent through composting, donation, food waste audits and the implementation of trayless dining halls;
installing a dishwasher that will save 525,000 gallons of water during a school year;
donating between 20 tons and 22 tons of pre-consumer food waste, such as vegetable clippings and stale bread, to a local pig farm; and
diverting 800 to 900 gallons of used vegetable oil from the landfill and saving the college $10,000 on fuel costs each year by recycling oil from dining halls to heat the College Camp.