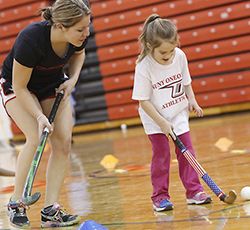 This fall SUNY Oneonta will begin offering a new program within its Health and Fitness Department. The bachelor's of science degree in Sport Management combines classes in its core discipline with accounting, business, marketing, management, communications, ethics and psychology coursework, giving students fundamental knowledge and skills pertaining to organizations within the sports industry. Students can declare Sport Management as their major right now.
"This interdisciplinary approach reflects the growing trend in higher education to prepare students to work in fields that demand proficiency in many complementary skills," said Tracy H. Allen, interim dean of the School of Social Science. "We have every reason to anticipate a heavily subscribed program."
Sport Management grew out of a minor of the same name that had become extremely popular in recent years. Demand for the Sport Management minor skyrocketed in 2014-2015, with requests for enrollment exceeding the capacity of nearly every Sport Management class section. The college responded by surveying students to gauge their interest in a full-fledged program of study in sports management. Ninety-seven percent of students polled in the Introduction to Sports Management classes said they would take more courses in the discipline.
Based on enrollment trends and market research, the college projects first-year enrollment of between 28 and 60 students. According to national and regional data, graduates will enter a growing field. The New York State Department of Labor predicts 10.8% growth in the occupations associated with the Sport Management degree.
Said Allen, "Social Science is proud to support a new major that epitomizes our vision to integrate academic theory with experiential learning. With a smart curriculum that is in demand and meets job market needs, Sport Management is poised for success."