It's one thing to read about water resource problems and environmental issues in the developing world. It's an entirely different experience to see these issues–and the people they affect–first-hand and work toward solutions. Sixteen environmental sustainability students from SUNY Oneonta recently returned from a summer international field course where they did just that.
In its fourth year, the field course, called "Water and Environment of Guatemala," brought students to Guatemala for two weeks, where they took water samples and analyzed water quality data from Lake Atitlán and the surrounding drainage basin. The course is led by Associate Professor of Geography and Environmental Sciences Tracy Allen.
Based on their observations, interactions with local residents, and data collection, students worked to identify sustainable solutions to the area's water resources problems. Students were also able to learn about agriculture while touring a coffee plantation and, later, take in the area's natural wonders, including the Pacaya volcano, which is active.
"While we were standing there, we saw large pieces of lava being shot from the top of the volcano," said Anna Zoodsma, an environmental sciences major from Poughkeepsie, NY. "And we could hear it rumbling inside the cone."
The trip was rewarding and eye-opening, according to Zoodsma.
"It was a really amazing trip, and that was heightened by the really knowledgeable professors and passionate students who were there," Zoodsma said. "I feel like I got to experience so many different things, not even just environmental issues but the culture and social aspects of Guatemala, too."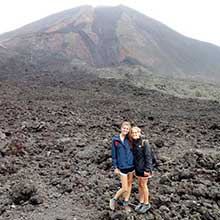 The students went into a Guatemalan elementary school to teach fifth and sixth graders about the lake and water quality, Zoodsma recalled, and they also installed water filtration systems into some of the area homes.
"That was really amazing because you could see the direct impact of what you're studying," Zoodsma said. "One lady said that, earlier that month, her son had been sick because they didn't have clean water. She said he would be healthy now. They rely so heavily on this lake, which is polluted. To educate them on how to bypass that, at least for now, was rewarding. It was good to know that you can contribute to a solution or improvement of an issue."
Skylar Claud, an environmental sustainability major from Lester, NY, also found interacting with the local residents to be meaningful.
"It was really cool being able to see a completely different culture and being able to help them with something they aren't able to do for themselves," Claud said. "Putting water filters in the houses for them, it was so cool to see how excited they were to have clean water, which is something a lot of people take for granted."
Madison Young, an environmental sustainability major from Syracuse, NY, said her favorite part of the trip was adventuring, visiting the Pacaya volcano, and becoming closer with her classmates.
"I got to know every single person and trust them," Young said. "The day we climbed the volcano, that was an amazing experience. We went up to the top and saw all the different kinds of rocks and biodiversity. There's all this molten lava, but there's still so much life up there. Such a cool experience all around."