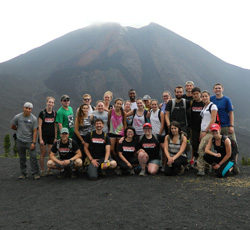 A summer course in Guatemala combined field research, problem-solving and service learning—plus a chance to climb an 8,000-foot active volcano.
A total of 21 Oneonta students traveled to Guatemala with Dr. Tracy Allen, associate professor of geography and environmental sciences, and Dr. Devin Castendyk, associate professor of earth and atmospheric sciences, for a an interdisciplinary field course called Water and the Environment of Guatemala.
During the two-week trip, students toured water and wastewater treatment plants and conducted water sampling in and around Lake Atitlán, a 327-meter-deep lake that is becoming increasingly unhealthy as the area's population increases and issues of sanitation and pollution are not addressed.
Now in its second year, the course offers the opportunity to build relationships and create community-based solutions that could be implemented by the local Mayan residents to clean up the lake.
"It's using the word 'sustainability' in a different way," said Allen. "We're not a flash in the pan. We want to help over a long period of time. For students, this is a living laboratory. They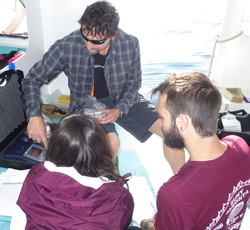 get to learn unbelievable things, applying their skills to a real-world water problem. And they get to make a difference."
To help educate and empower the local Mayans, the students prepared and presented fun, hands-on lessons teaching fifth- and sixth-graders about water-quality issues. The curriculum also included a tour of a successful community-run, shade-grown organic coffee plantation and other hands-on sustainability lessons.
"This trip has offered more opportunities to dive into and use water-quality testing equipment than I have ever had before," said environmental science major Sara-June Bouillon, who is putting those skills to use this summer as an intern at SUNY Oneonta's Biological Field Station in Cooperstown.
Brendan Ceccolini, who graduated in May with a degree in geography and a minor in environmental planning, said his most memorable experience was helping local villagers set up an aquaculture system to grow tilapia, after hiking through the forest in the pouring rain. "I'll never forget being on a ladder in the heaviest rains I've ever experienced, using iron wire to tie a solar panel to a treetop, while thinking of how awesome it was to interact and help the local people."
Two Guatemalan graduate students helped with the research and shared their culture with the Oneonta students. Between fieldwork and interactions with the local Mayans, there was time for sightseeing. A highlight for many students was hiking the Pacaya volcano, an active complex volcano that rises to an elevation of 8,373 feet and erupted as recently as a year ago.
Many of the students had never traveled outside the United States, and the experience of being immersed in another culture changed their perspective in ways they didn't expect. "I was astounded by how happy the people of Guatemala are," said geography and environmental science dual major Taylor Litwin. "Poverty does not mean sadness. The people that I encountered in this country welcomed us with open arms. Guatemala has a place in my heart! I'm planning to return in the future to volunteer in any way possible. "