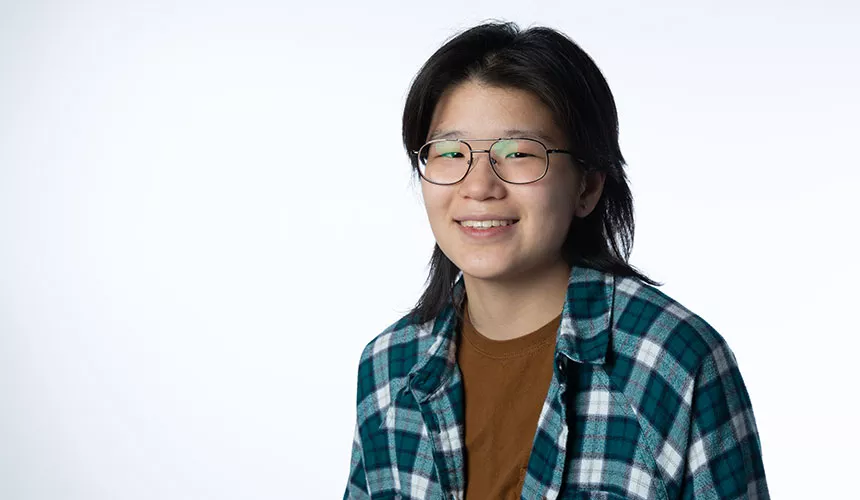 Hadley Chan has always loved astronomy. In their childhood bedroom, they had a big poster showing the moon landing, and their bookshelves were filled with encyclopedias about space.
Studying physics and observational astronomy at SUNY Oneonta a decade later, Hadley is shooting for the stars.
Why SUNY Oneonta?
When I was looking at colleges and learned that SUNY Oneonta has the largest optical telescope in New York state, I was sold on coming here. I even checked some private schools, and they didn't have anything close to what we have here at the College Camp Observatory.
My Activities
Being president of the Physics and Astronomy Club has been an amazing experience. We've gone on field trips to physics-related colloquiums, done projects, and held other events, including collaborating with the Nebula Society student club for shows at the digital planetarium on campus.
I'm also a peer tutor, which I really enjoy. I know that not everyone loves physics like I do, but I hope I can help them succeed and, in the end, come away with some investigative problem-solving skills, because that's really what you take away from STEM classes. It's fun to see the lightbulbs go off for them. Maybe someday I'll become a professor!
Best Experiences
Last summer, I was lucky enough to complete a summer research internship at the observatory with one of my favorite professors, Dr. Valerie Rapson. After learning how to use the state-of-the-art equipment there, I conducted exoplanet observational research and analysis, which was so exciting! That helped me narrow down my career goals and realize that I want to go into the field of observational astronomy.
About My Major
The Physics Department at Oneonta is like a family. It's not too small and not too big. I've made some good friends and gotten to know several of my professors, and I know I'll have those connections for the rest of my life. I've been to every department seminar and talk by successful alumni from the program. It's inspiring to meet graduates who have been in my shoes, and hearing their stories has shown me that there is no straight path from college to your dream career – I know that I can go on from SUNY Oneonta and do amazing things.
Plans, Hopes, Dreams
I'm applying to grad schools now and, although I'm still figuring out exactly what I want to do, I know it will be in the field of observational astronomy, and I have Oneonta to thank for that.