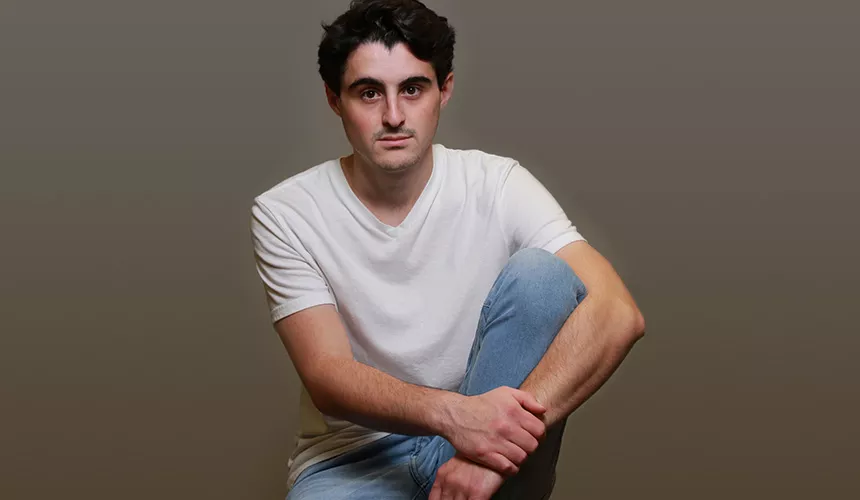 August Heminway, of Ridgefield, CT, completed a photo documentary project titled "A Rural Devotion" for an independent study at SUNY Oneonta examining underfunded or overlooked volunteer fire departments. From October to December 2022, August spent time with the West Oneonta Fire Department and observed its training and operations.
A dual major in Criminal Justice and Political Science, August will be graduating in May 2023. After graduation, August plans to attend graduate school and gain experience working with human rights non-governmental organizations, in preparation for his career goal of becoming a United Nations War Crimes Investigator.
Why did you choose SUNY Oneonta?
I chose this school as it was out of state from Connecticut where I live, and I felt it provided a real campus experience, yet wasn't too big to get lost in. The program I wanted was well rated in my research on colleges and universities, and I thought overall Oneonta would feel the most accepting and comfortable.

Best experiences and involvement in campus activities?
I am the president of the Oneonta Photo Society and the SUNY Oneonta Taekwondo Club here on campus. My involvement with the Photo Society came after taking a class with Wesley Bernard that really opened the opportunity for this project to channel photography as a hobby and creative outlet given it's not my major.
I'd have to say my best memories here are getting my thesis paper featured at the Undergraduate Political Science Conference and being able to further my academic goals to points I didn't think I was able to. As well as being able to rebuild SUNY Oneonta Taekwondo along with the other members and start holding large events with other reputable schools. And lastly, being able to get my photography work published both through the Oneonta Photo Society and Art & Scope, as well as in a local newspaper.
About My Photo Documentary
I did this project for an independent study with Professor Bernard. It took a handful of visits between October and December to the West Oneonta Fire Department, spending time with them and observing their environment and training. 
Firefighters are humanitarians who do uncontroversial work, saving lives daily even in proven harm's way. This documentary project examines underfunded and overlooked volunteer fire departments who still devote themselves to a greater good. Firefighters volunteer themselves to their community despite the lack of resources available.
They're our neighbors, friends and families. The lack of resources available to rural departments magnifies the power of their actions and commitment to the well-being and safety of others.
Photo Documentary Plans for The Future?
Though this project doesn't directly relate to my majors, I have a vast interest in documentary photography. I hope to be able to meld that work in the future with human rights and conflict work, which is along the lines of my career goals to become a United Nations War Crimes Investigator.
I hope to be able to portray the important issues in this field and what they tackle through photography. After I graduate, I plan on attending grad school and gaining work experience in human rights non-governmental organizations.