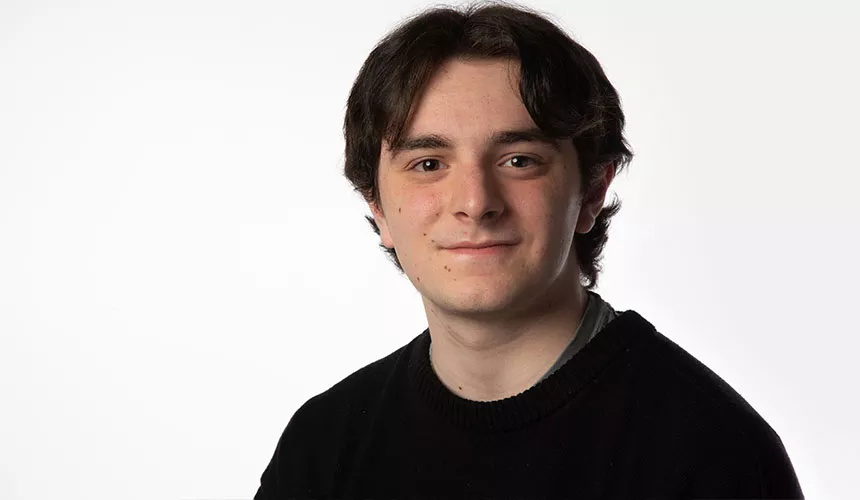 Growing up in Maryland with parents who loved country music, Music Industry major Gideon Dean became a fan of the genre at an early age and soon began dreaming of a career in country radio. As one of just 41 college students from across the country selected for a yearlong mentorship program offered by the Country Music Association (CMA), he is one step closer to that goal. As a member of the CMA's Educational Leadership Class of 2024, he will meet country music industry professionals through a year-long program that includes panels, seminars and courses.
A highlight of the program will be a trip to Nashville in August for the organization's annual Leadership Summit, a multi-day conference full of professional development, industry education, and networking. Dean is the first SUNY Oneonta student and second SUNY applicant ever to be accepted into the mentorship program.
Additionally, Dean spent part of his spring break attending the Country Radio Seminar in Nashville. This yearly seminar gathers radio professionals and artists to compare notes on what they would like the country radio scene to look like throughout the coming year. Dean had the opportunity to experience previews of new music and attend meetings with professionals in the music and media industries. He applied for and received a university-funded Student Travel for Excellence Program grant to defray some of the expenses of the trip.
Why Music Industry?
I've been passionate about music itself and the behind-the-scenes aspects of the music industry and learning all the different facets of how it works. That was what drew me to the major.
My parents are from Texas and Arkansas, so I grew up listening to country music. The kind of music that I grew up listening to and enjoying were things like the Dixie Chicks and Trisha Yearwood. I wanted to pursue that on my own.
Favorite Part About Your Major?
The professors. They're the most knowledgeable, talented and wisest group of people I have ever met. I've learned so much from them both in and outside the classroom.
I have a couple of friends in the music industry program who are also from out of state, which shows how great the music industry program is because I don't know if there are a whole lot of programs on campus that have a student-body made up of people from a wide range of places. It shows that people are willing to come from far and wide for this program.
Best Experiences So Far?
The Music Industry Communication course with Dr. Pignato was probably the most formative class I've ever taken. I took so much knowledge from it that I've applied to internships and applied it to my applications for things. I wouldn't have been able to achieve my personal goals without it.
Also, the clubs and organizations that the campus has to offer. Clubs such as the Music Industry Club, the Songwriters Club and WONY, our campus radio station, are great places to get involved and immerse yourself.
The Songwriters Club and Music Industry Club occasionally host an open mic night together. I've performed at a couple of open mics that we host. We also did a festival called Sounds of Summer Fest, which featured many acoustic acts, and I performed at that.
Can You Discuss Your CMA Mentorship Program?
My mentorship is with the Country Music Association, and it's a whole year long. They're known for the Country Music Awards, but they support artists, creatives and radio professionals through many foundations and nonprofits.
When I found out that they had a program for students where they select a certain number of applicants across the country to introduce them to professionals, I applied. In a sense, we're all paired with a mentor. We have seminars, panels and courses throughout our senior year. So that was something that I wanted to take part in. The application process was long, and I was still determining if I would get in because they mainly accept students from places like Belmont and Vanderbilt in Nashville and surrounding areas. It was fantastic to get selected for that!
What Do You Hope to Do After You Graduate?
I would love to work in country music radio, whether it's on-air or behind the scenes at a media company or for a record label and media or radio promotions, or something like that. The Country Music Association is an organization that has drawn me in for the longest time.