The history of the Oneonta College Planetarium extends to the early 1960s with the acquisition of a Spitz A3P center-mounted optomechanical projector, sound system, and twenty-four-foot dome from Spitz, Inc. of Chadds Ford, Pennsylvania. Visitors sat on padded benches encircling the projector.
Augmented by several small perimeter-mounted slide projectors, the facility provided vivid depictions of the sky as seen from any location on Earth today or extending millennia into the past or future.
Over the next two decades the facility's founding director, Mr. John ("Jack") F. Maier, established a rich tradition of astronomical collegiate teaching and public service, including area schools and Scout groups. Particularly popular were his annual Christmas shows incorporating theories of the "Star of Bethlehem." These persisted several years past his formal retirement in 1985.
The second director, Dr. Michael P. Merilan, continued the facility's tradition of extensive use for College astronomy classes and public outreach. Crossing into the 21st century, these ranged from training for K-12 student science competitions to unique enrichment experiences for specialized youth and adult groups.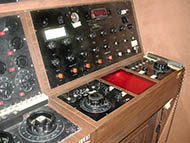 The planetarium underwent a full update in 2008 with a complete reconfiguration of the physical layout and installation of a center-mounted Evans and Sutherland (Salt Lake City, Utah) Digistar 3 SP2HD full-dome digital projection and sound system along with reclined seating, carpeting, and wall treatments - plus establishment of an adjacent display gallery and classroom.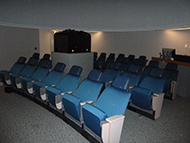 The original dome remains in place but was refurbished to optically complement the new projectors. A 2009 software upgrade to the new Digistar 4 system maintains the facility's cutting-edge capabilities. The dual center-mounted computer-controlled projectors place over four million pixels on the dome, yielding stunning immersive astronomical experiences ranging from Earth-based views of the sky as seen from any terrestrial location at any epoch in time to virtual voyages through our Solar System, Milky Way Galaxy, and Universe.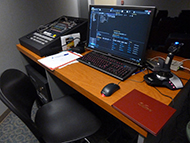 In addition to its astronomical uses, the facility also acts as the ultimate digital theater, presenting compelling immersive experiences for students and audiences from a wide range of academic fields across campus. Under the guidance of its third director, Dr. Jason P. Smolinski, the planetarium is well-outfitted to bring gripping views of outer space to students and members of the community for years to come.