After Oneonta
Danielle graduated in May 2020 and is doing her Dietetic Internship at Auburn Community Hospital while earning a master's online through SUNY Oneonta's one-year M.S.-Nutrition and Dietetics Program.
Why SUNY Oneonta?
When I was first looking at schools, I knew I wanted to go into the health/science/nutrition field, so I wanted to look at colleges with accredited programs. Oneonta was one of them. I also had a huge interest in playing tennis because I've done that most of my life. I'm very interested in music and theatre, as well, so I kind of wanted to see if there was a school that could fit all of my interests. I set up a meeting with the tennis coach here, and my family and I came during Open House, and we met with him and took a tour. I actually ended up becoming friends with the tour guide I had! She was so helpful, and she told me I could still be involved with music and theatre. I was so happy that I could stay well-rounded, majoring in one thing but still pursuing all of the other interests I have.
My Activities
Tour guide, Food and Nutrition Association president, Edgy Veggie Society, Chemistry Club, Environmental Science and Activism club, Phi Upsilon Omicron honor society vice president, Alpha Psi Omega honor society, Laugh Club, Mask and Hammer theatre club, tutor, teaching assistant.
Best Experiences
The opportunities I've had, especially to travel, I will never forget. 
Traveling abroad, learning in and out of the classroom, and getting involved with events and programs with multiple clubs on campus! The opportunities I've had, especially to travel, I will never forget. The summer after my freshman year, our tennis team went to Portugal, and that was the first time I had been overseas. It was incredible. Being able to see and live in another culture temporarily is so eye-opening. And then I also was able to travel to England with four other students to perform with Tim Newton and the VOCI Chamber Singers. That was wonderful and so eye-opening, too.
One of my favorite days of the year is Open House because I really enjoy talking to all the families and sharing all of my experiences with them. If I didn't come here, I wouldn't have learned, grown and been as motivated to do what I want to do in the future.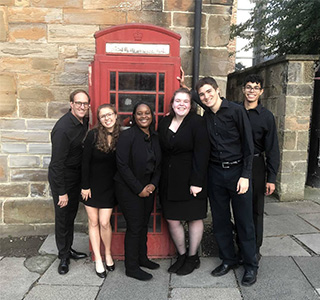 England Choir Trip Fall 2018
BBQ Night in myKitchen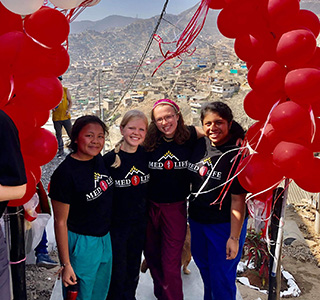 Med Life Peru Trip 2020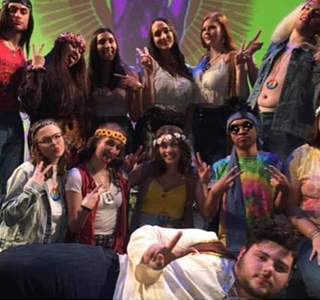 Apollo Music Club performance of Hair 
Plans, Goals, Dreams
I would love to work with the community on a broad scale, traveling and working with different populations, whether it's pediatrics, the elderly, or underdeveloped areas or regions. I'm applying for SUNY Oneonta's dietetics master's program!
Favorite Class
One of my classes that I really liked was Nutrition Education and Counseling because we learned how to actually work with people. It wasn't just looking at the textbook and memorizing things, it was actually experiencing things. I did a mock counseling with another student over the course of the semester. We did food demonstrations and cooking classes, basically putting our knowledge into practice, and I thought that was really helpful at transitioning from college to the real world and giving us a sneak peek at what things will be like in a few years.