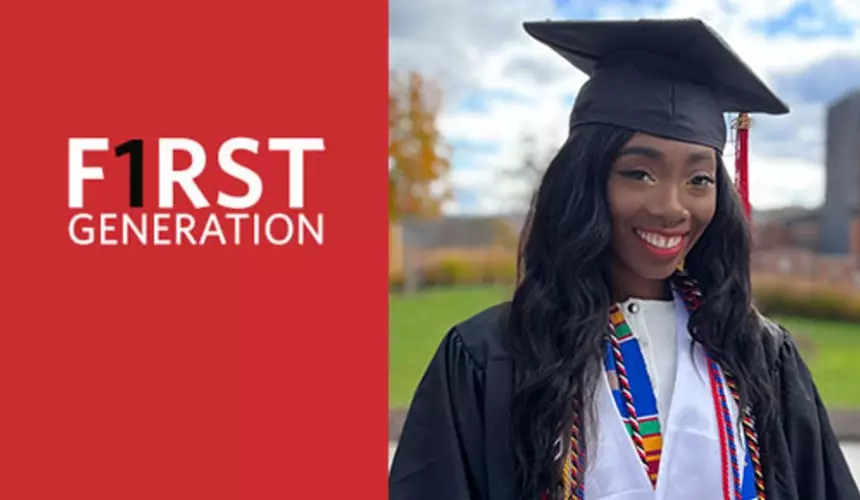 Professional Title
Legal Intake Specialist at a law firm
What does being a first-generation college student mean to you?
Being a first-generation college student means perseverance. You have to do it tired. You have to get up and go to that class (even if you don't want to). You have to take advantage of the resources that surround you, and most importantly, you have to do the work. If not for yourself, for your family. It fills me up with such pride and joy to know that...I did it! Since I began my journey at SUNY Oneonta, I vowed to my family and myself that by any means necessary, I will graduate.
What obstacles did you face in this context?
After graduating high school, I didn't fully understand the meaning of attending a university. Both my parents attended college, however they did not graduate. In the beginning, around my sophomore year as a transfer student, I felt out of place. It was a new school, I switched my major, and I didn't really know anyone. My grades and mental health plummeted, and I found myself questioning if I made the right decision to transfer to SUNY Oneonta at all. Deep down, I knew that I belonged at SUNY Oneonta and grew committed to finding my purpose. I changed my major (again), studied immensely hard, made the Dean's list, and found "my people." Without my support system (family and friends), academic advisor, and use of all the resources this university has to offer, I wouldn't be where I am today.
What advice do you have for other first-generation students?
SUNY Oneonta has tons of resources (i.e. Accessibility Resources, the Student Learning Center, the Counseling Center, Office of Student Success, etc.), so don't be afraid to use them. There are people who have been in your shoes and who know what it's like to feel the pressure to "do it all by yourself." There is nothing wrong with seeking help because at SUNY Oneonta, there are people who want you to succeed. As a recent alum, I tell everyone going to SUNY Oneonta was one of the best experiences of my life. Your undergrad years you cannot take back. So when you cross that stage, receive your diploma, and make your travels back to wherever it is that you come from, make sure that you leave your newfound home with no regrets. My four years of college were truly the best years of my life.