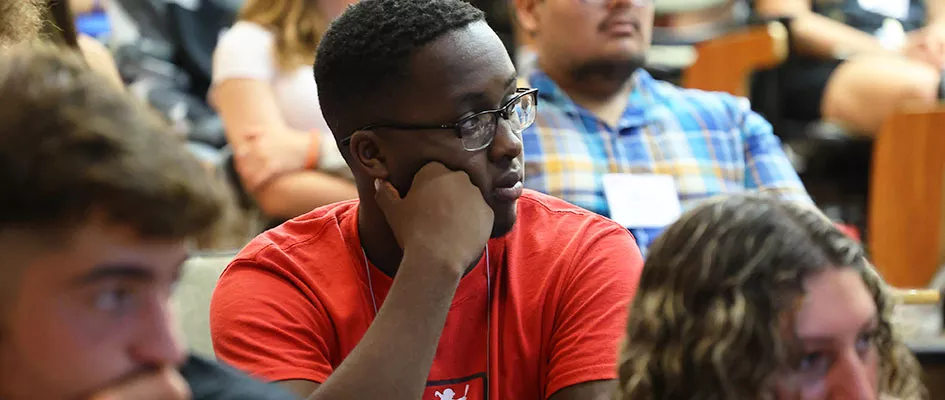 About the Major
SUNY Oneonta philosophy majors are challenged and instructed to think clearly and responsibly, to communicate their ideas more effectively, and to listen to the ideas and opinions of others with increased empathy and understanding. Common topics in philosophy courses include self-identity and worth, cross-cultural and/or interdisciplinary investigations, and contemporary moral and ethical issues. 
Because it encourages broad-based understanding, critical thinking and creative problem-solving, philosophy provides a range of options for double majors and a solid foundation for graduate studies. Students with multidisciplinary interests often combine philosophy with art, English, music, theatre,  psychology, anthropology, political science or sociology. Two B.A. concentrations are available: Applied Philosophy or Liberal Arts.
Pre-Law Advisement
A sizeable number of Oneonta philosophy majors are preparing for law school through our pre-law advisement program. Many students do internships at local law firms and firms in major metropolitan areas, or at government offices in Albany. The Oneonta Pre-Law Society brings together these students with colleagues in political science, history, business economics and related disciplines, and sponsors speakers, panels, films and other law-related activities.
Opportunities
The Philosophy Club offers the opportunity for students from all fields to meet and discuss philosophical issues, explore professional possibilities and organized the annual Undergraduate Philosophy Conference. Initiated in 1995, the conference has become one of the most respected events of its kind,  hosting students from prestigious universities, such as Harvard and the University of Chicago, and from as far away as Hawaii, to present and discuss papers on a variety of topics.
Request Information
Contact
Department of Philosophy
160 Fitzelle Hall
Phone: 607-436-2456 
Fax: 607-436-2435