October 18th & 19th, 2019
The SUNY Pride Conference Committee cordially invites students, community members, resource professionals, junior and senior faculty, and administrators to submit proposals for our upcoming conference theme: Celebrating Our Histories, Envisioning Our Futures. 2019 marks the 50th anniversary of the Stonewall Inn riots that many recognize as the linchpin event that fundamentally changed the course of history for LGBTQIA+ people both here in the U.S. and around the world. For this year's SUNY Pride Conference, we encourage participants to reflect on the ways that our histories—and herstories—need to be celebrated and continually uncovered from hidden corners of sociocultural days past as one way of embracing our individual and collective journeys. In doing so, we also encourage participants to consider envisioning a future that none of us are guaranteed—futures that challenge us all to do better by our LGBTQIA+ ancestors, LGBTQIA+ siblings, our current selves, and our future selves.
SUNY Pride Learning Outcomes:
Conference participants will be able to:
Identify multiple aspects of diversity, including the ongoing development of identity and creating an inclusive community.
Explore and analyze current trends and issues that LGBTQIA+ college students face.
Create a network of student leaders and professionals.
Explore impactful approaches to diversity, inclusion, and wellness through historical and/or future-oriented lenses.
Guidelines for Presentation Submissions:
All presentations should:
1.    Explore the SUNY Pride Conference theme through the analysis of research, best practices, lived experience, and activism. 
2.    Promote audience engagement personal and collective reflection, and robust discussion. 
3.    Include a strongly articulated purpose, conceptual foundation, contextual background, and contributions to intersectional LGBTQIA+ scholarship and advocacy. 
The SUNY Pride Conference committee is excited to announce the return of the Professional Track, where current professionals and educators that work with and serve the LGBTQIA+ community (ex: teachers [K-12], professors, administrators, staff members, counselors, community leaders, advisors, etc.) can share research, trends, and best practices for supporting students in the community and beyond. New this year is the opportunity for Professional Track presentations to include students in the audience. Please note on the submission form if you would like your presentation to count towards the Professional Track.
Students presenters should seek guidance from a faculty or staff member at their home institution. The faculty or staff member should mentor the students through the process of writing the conference proposal, organizing a presentation on a specific theme, and presenting their scholarship to an audience. 
To submit a proposal, please complete the form here.
Below are some areas of potential interest that fit in this year's theme and learning outcomes:
•    Hidden and Invisible Histories/ Herstories within LGBTQIA+ communities
•    Queer Futurisms and Afrofuturism
•    Invisibility and Hypersensitivity of LGBTQIA+ Identities
•    Legacies of Intersectionality
•    Legacies of Colonialism and Globalization
•    Marginalization and Resilience
•    Implications of Public Policy for LGBTQIA+ Communities
•    Heteronormativity/Homonormativity
•    LGBTQIA+ Transnational and Translocal Activism 
•    Post-Colonial and De-Colonial LGBTQIA+ Narratives and Performances
•    LGBTQIA+ Mental Health and Wellness
•    Political Climate and Impacts
•    Allyship and Intervention
•    Acts of Resistance and Healing
•    Embodied Research and Teaching
•    Cultural Queerness
•    Non-normative Genders and Sexualities 
•    Violence against LGBTQIA+ Bodies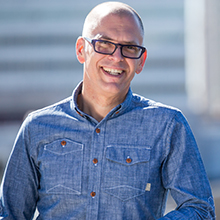 Plaintiff in The Landmark Supreme Court Marriage Equality Case
Jim Obergefell draws from his unique experience at the heart of the Supreme Court marriage equality ruling to move and empower audiences to stand by their beliefs—and prove that love always wins.  
A self-described accidental activist, Jim found himself in the role of caregiver for his partner of more than 20 years, John, as he neared the end of his life due to ALS. An unexpected series of events led to their decision to marry, eventually taking Jim to the Supreme Court and the landmark decision in Obergefell v. Hodges that resulted in victory for marriage equality. 
Jim and co-author, Pulitzer Prize-winning investigative journalist Debbie Cenziper, captured Jim and John's story, as well as the stories of others involved in this case in the book Love Wins: The Lovers and Lawyers Who Fought the Landmark Case for Marriage Equality, which is being adapted into a feature film.
Now a self-described purposeful activist, Jim is dedicated to the fight for equality not just for the LGBTQ community, but for civil rights for all. In his moving story of love, loss, dedication, and commitment, Jim brings audiences along on his emotional and empowering journey and his continued efforts fighting for human rights. 
Friday, October 18th
4:30pm - 7:00pm: Check In in Hunt Union
7:00pm - 8:30pm: Pre-Conference Social Event; Title TBA, Waterfront Room in Hunt Union
7:00pm - 8:30pm: Pre-Conference Professional Social Event; Details TBA

Saturday, October 19
8:00am: Check In in Hunt Union
9:00am – 9:20am: Welcome, Ballroom in Hunt Union
9:30am – 10:30am: Breakout Session I, Various Rooms in Hunt Union
10:40am – 11:40am: Breakout Session II, Various Rooms in Hunt Union
11:40am – 12:20pm: Information Tabling, Second Floor in Hunt Union
12:00pm – 12:20pm: Lunch, Ballroom in Hunt Union
12:20pm – 1:20pm: Keynote Address, Ballroom in Hunt Union
1:30pm – 2:30pm: Breakout Session III, Various Rooms in Hunt Union
2:40pm – 3:40pm: Breakout Session IV, Various Rooms in Hunt Union
3:45pm – 4:00pm: Closing Remarks, Ballroom in Hunt Union
4:00pm – 5:00pm: Social Hour/Professional Coffee Hour, Locations TBA
7:30pm – 9:30pm: Dragball hosted by GSA, Ballroom in Hunt Union
Thank you to our sponsors: The Gender and Sexuality Resource Center (GSRC), Gender and Sexuality Alliance (GSA), the Office of Student Life & Leadership @ Hunt College Union, Office of Equity & Inclusion, Department of Women's and Gender Studies, Office of Continuing Education, Office of Residential Community Life, Sodexo, Activities Council,Student Association, Public Events Committee, and the SUNY Oneonta Alumni Association with fiscal support from the Fund For Oneonta at SUNY Oneonta.
If you have any questions, please contact Emily Phelps, Chair of the SUNY Pride Conference Committee, at Emily.Phelps@oneonta.edu.