October 18th & 19th, 2019
The SUNY Pride Conference Committee cordially invites students, community members, resource professionals, junior and senior faculty, and administrators to submit proposals for our upcoming conference theme: Celebrating Our Histories, Envisioning Our Futures. 2019 marks the 50th anniversary of the Stonewall Inn riots that many recognize as the linchpin event that fundamentally changed the course of history for LGBTQIA+ people both here in the U.S. and around the world. For this year's SUNY Pride Conference, we encourage participants to reflect on the ways that our histories—and herstories—need to be celebrated and continually uncovered from hidden corners of sociocultural days past as one way of embracing our individual and collective journeys. In doing so, we also encourage participants to consider envisioning a future that none of us are guaranteed—futures that challenge us all to do better by our LGBTQIA+ ancestors, LGBTQIA+ siblings, our current selves, and our future selves.
SUNY Pride Learning Outcomes:
Conference participants will be able to:
Identify multiple aspects of diversity, including the ongoing development of identity and creating an inclusive community.
Explore and analyze current trends and issues that LGBTQIA+ college students face.
Create a network of student leaders and professionals.
Explore impactful approaches to diversity, inclusion, and wellness through historical and/or future-oriented lenses.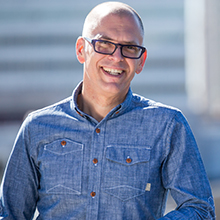 Plaintiff in The Landmark Supreme Court Marriage Equality Case
Jim Obergefell draws from his unique experience at the heart of the Supreme Court marriage equality ruling to move and empower audiences to stand by their beliefs—and prove that love always wins.  
A self-described accidental activist, Jim found himself in the role of caregiver for his partner of more than 20 years, John, as he neared the end of his life due to ALS. An unexpected series of events led to their decision to marry, eventually taking Jim to the Supreme Court and the landmark decision in Obergefell v. Hodges that resulted in victory for marriage equality. 
Jim and co-author, Pulitzer Prize-winning investigative journalist Debbie Cenziper, captured Jim and John's story, as well as the stories of others involved in this case in the book Love Wins: The Lovers and Lawyers Who Fought the Landmark Case for Marriage Equality, which is being adapted into a feature film.
Now a self-described purposeful activist, Jim is dedicated to the fight for equality not just for the LGBTQ community, but for civil rights for all. In his moving story of love, loss, dedication, and commitment, Jim brings audiences along on his emotional and empowering journey and his continued efforts fighting for human rights. 
Friday, October 18th
4:30pm - 7:00pm: Registration Check In in Hunt Union
7:00pm - 8:30pm: Pre-Conference Student Social Event; Celebrating OURSelves, Waterfront Room in Hunt Union
7:00pm - 8:30pm: Pre-Conference Professional Social Event; Roots Brewing Company in Oneonta 

Saturday, October 19
8:00am: Registration Check In in Hunt Union
9:00am – 9:20am: Welcome, Ballroom in Hunt Union
9:30am – 10:30am: Breakout Session I, Various Rooms in Hunt Union
10:40am – 11:40am: Breakout Session II, Various Rooms in Hunt Union
11:40am – 12:20pm: Information Tabling, Second Floor in Hunt Union
12:00pm – 12:20pm: Lunch, Ballroom in Hunt Union
12:20pm – 1:20pm: Keynote Address, Ballroom in Hunt Union
1:30pm – 2:30pm: Breakout Session III, Various Rooms in Hunt Union
2:40pm – 3:40pm: Breakout Session IV, Various Rooms in Hunt Union
3:45pm – 4:00pm: Closing Remarks, Ballroom in Hunt Union
4:00pm – 5:00pm: Networking Social Hour, Waterfront Room, Hunt Union
7:30pm – 9:30pm: Glitz & Glam: Stonewall's 50th Anniversary Dragball hosted by GSA, Ballroom in Hunt Union
Invisible in Plain Sight: Navigating the Workplace as a LGBTQ+ Professional [Professional Track] 
Presented by:    Sim J. Covington, Jr., Ed.D., Chief Diversity Officer, Finger Lakes Community College
Though perceived by many as an isolated event, coming out of the closet is a continuous journey for LGBTQ+ professionals. Across the United States, many students are out on their college campus while keeping their sexual orientation/sexual identity away from their family of origin. Upon the completion of the college degree, these individuals then transition to the world of work, many times with low expectations due to previous experience. With the desire to live one's "best life" and engage in authentic interactions with others, biases in the workplace can create an atmosphere of hostility, passive-aggression and lost opportunity. In this workshop, we will explore the tightrope many LGBTQ+ professional feel expected to walk to fully participate in the American Dream.
Keywords: Lesbian, Gay, Bisexual, Transgender, Queer, Allyship
LEAD Credit: Leadership Development
Making Campus Your Safe Space
Presented by:    George Archundia, Resident Hall Director; Leslie Kintner, Community Director; Alexander Savill, Resident Manager, SUNY Oneonta
The goal for this presentation is to discuss housing on college campuses for students to be able to have a better understanding of what students not only want, but need when it comes to LGBTQ+ housing, and ways to make the space feel inclusive, welcoming and feel like home. We invite attendees with experience in LGBTQ+ housing to participate in the discussion. 
Keywords: Housing, Allyship, Wellness, Advocacy, Mental Health
LEAD Credit: Social Responsibility
Queer Sex Education
Presented by:    Fae Simpson, Director of Gender and Sexuality Concerns, UAlbany
Sexual Health is incredibly important. Unfortunately, LGBTQ experiences, especially trans experiences are often left out of the conversation. Topics include consent and communication and pleasure! Learn in a non-judgmental space with an opportunity to ask anonymous questions! Queer Sex Education answers questions you may have had for years and questions you didn't even know you had.
Keywords: Wellness, Advocacy, Intersectionality, Sexual Health, Queer
LEAD Credit: Healthy Behavior
A History of the International Bill of Gender Rights (IBGR) [Professional Track]
Presented by:    Sharon Stuart, Gender Wellness Center, Oneonta NY
This presentation will explore and stress the importance of three areas of activity central to the rise of a coherent and effective transgender activist community as follows: 1. Uniform identification terminology. 2. Forming connections with allied human rights movements and becoming part of the LGBTQ alphabet/community. 3. Seeking out, integrating with and receiving the support of helping professions -- medical, legal, social, education and employment/commercial institutions. How these goals were articulated, attacked, and eventually achieved over the ensuing 50 to 75 years since the 1950s provides not just history but a foundation for future progress amid conservative efforts to derail the modern transgender movement.
Keywords: Transgender, Advocacy, Intersectionality, History/Herstory, Healthcare
LEAD Credit: Social Responsibility
Creating More Supportive School Climates: The Roles of Allies [Professionals Only]
Presented by:    Jack K. Day, Ph.D, Assistant Professor, SUNY Oneonta
Recent studies have turned attention to policies and practices that create safer and more supportive school climates for LGBTQI+ students. While the presence of organizations such as Gender and Sexuality Alliances (GSAs) and policies that enumerate sexual orientation and gender identity have been found to contribute to more positive school climates, researchers emphasize more work is needed to identify ways to more effectively implement policies, especially at the faculty/staff and student level. This session is designed to be a round table discussion, grounded in recent scholarship, about the important roles that allies play in the process of developing and implementing policies and practices, as well as some of the challenges encountered in allyship (e.g., when to "step up," and when to "step back"). This discussion is open to all and will benefit from a wide range of voices, including those who identify as LGBTQI+ and those who identify as allies.
Keywords: Allyship, Advocacy, Intersectionality
 
Telling Our Stories: The Importance of Queer Narratives
Presented by:    Frankie Graham, Otsego Pride Alliance
Stories are a powerful way of connecting with the hearts and minds of people everywhere. As queer people, speaking our truth gives us the opportunity to forge bonds with allies and educate the general public. How do we do this in a compelling and authentic manner? How do we open up and express vulnerability while protecting ourselves? What place do our narratives have in public discourse? By telling our stories what impact are we having on the LGBTQ+ community? I will share my own journey of struggling to understand and accept my gender and sexuality and explore how others have told their stories. While I will be focusing mostly on Trans feminine narratives, it is my hope that the presentation will be relevant to all members of the community regardless of how they identify. Following will be an in-depth discussion of the above questions.
Keywords: Transgender, Queer, Advocacy, Intersectionality
LEAD Credit: Personal Competency/Confidence
Labels Are for Soup Cans: An Exploration of Labels and Gatekeeping Within the LGBTQIA+ Community
Presented by:    Ryan Thomson, Secretary of Gender Sexuality Alliance; Moe McIntyre, Psychology Major; Caitlin Snyder, President of Anthropology Club, SUNY Oneonta
This workshop will explore the concepts of labels and gatekeeping through an activity of abstraction using colors, labels, and demonstration. This will later evolve into a discussion and presentation exploring the history, proposed value, and reclamation of labels within the LGBTQIA+ Community. Using this history, this workshop will explore the development of labels to current connotations, examining who has created these narratives and how they have been used by society as well as members of the LGBTQIA+ community to exclude other members of this community.
Keywords: Labels, Gatekeeping, Queer, History/Herstory
LEAD Credit: Critical Thinking
Kink 101
Presented by:    Fae Simpson, Director of Gender and Sexuality Concerns, UAlbany
Are you interested in Kink and BDSM but don't know where to start? This queer and trans centered introduction to kink is a great way to learn more! Along with an explanation of what BDSM and some common, (and not so common) kinks are, this program is a judgment-free zone on how to communicate with partners about what you are into and some basic kink safety you should know when you start exploring!
Keywords: Queer, Intersectionality, Sexual Health
LEAD Credit: Healthy Behavior
Professional Staff Chat Session Hosted by the SUNY Oneonta Office of Equity and Inclusion [Professionals Only]
Hosted by:    Andrew Stammel, Affirmative Action Officer/ Title IX Coordinator; Faith Tiemann, Director for Multicultural Student Initiatives, SUNY Oneonta
Faculty, staff, and professionals from all campuses, please join The Office of Equity and Inclusion as we host a candid dialogue about campus programs, successes, and areas of improvement on our campuses. This is a great opportunity to network and share ideas. Coffee and snacks will be served.
 
Common Misconceptions: Sexuality and Gender Identities
Presented by:    Destiny Sanabria, PR chair for Mu Sigma Upsilon Sorority Inc. and MGC/IGC chair; Cassidy Herrera, Secretary and Community Service Chair for Mu Sigma Upsilon Sorority Inc., SUNY Oneonta
This program touches on and thoroughly explains common misconceptions that people make about the LGBTQ+ community concerning Sexuality and Gender Identities. After Defining key words like sexual orientation and Gender identity, the presenters will compare and contrast them to show the distinct differences between the terms. This sequence will be repeated with other LGBTQ+ vocabulary such as asexual and allsexual.
Keywords: Gay, Bisexual, Queer, Asexual, Allyship, Sexual Health
LEAD Credit: Diversity Program
Repo Fem: Repossessing the Fem and Repositioning Masculinity
Presented by:    Timothy W. Gerken, Phd Associate Professor of Humanities, SUNY Morrisville
This presentation uses a multi-disciplinary approach to examine how the male Fem has been singled out by society for recall, rejection, and arrest throughout the 20th Century. The research looks at science and signage. History shows how science was used to recall the Fem and train him to be more masculine. And, how signs and slogans have been used to keep the Fem out of gay places and gay bedrooms. The work questions stagnant and conventional views of masculinity and was developed to be included in a collection of essays titled Antagonizing White Feminism: Intersectionality's Critique of Women's Studies and the Academy (Lexington Books). The text's considerations pushes feminism to consider its exclusionary biases and practices. The title "Repo Fem" uses the famous 1984 film "Repo Man" as a guide for repossessing an important cultural identity and the author's attempts to repossess his Fem identity lost during childhood and adolescence.
Keywords: Gay, Transgender, Non-Binary, Intersectionality, History/Herstory
LEAD Credit: Critical Thinking 
Envisioning Queer Utopias
Presented by: Morah Marshall, Nissa Bisguier, & Jade Burdman, SUNY New Paltz 
What is a queer utopia? Does gender matter? Is there any gender at all? How do we negotiate different conceptions of perfect worlds? Many scholars have theorized about utopias and what that means for where we are headed as queer people. The future is for us to decide! Join us in a discussion and activity-based presentation centered around our idealistic futures and the possibility of their application.
Keywords: Transgender, Queer, Wellness, Intersectionality, History/Herstory
LEAD Credit: Critical Thinking
Meet and Greet with Keynote Jim Obergefell (Limited to 20 Spots)
An informal Q&A session to talk more about related interests and topics with our keynote, Jim Obergefell. **Space is limited to a first come, first serve basis, capping at 20.** 
 
Stories Beget Stories: Telling (& Collecting) LGBTQIA+ Oral Coming Out Stories as an Approach to Documenting LGBTQIA+ Histories
Presented by:    Stephen M. DiDomenico, Ph.D., Assistant Professor of Qualitative Communication Inquiry, SUNY New Paltz
The coming-out story is a narrative genre that consists of a LGBTQIA+ individuals recounting their journey through the process of forming and disclosing a sexual and/or gender identity. Although much research has focused on the psychological development of individuals as they maneuver through coming-out experiences, less work that examines how individuals narrate their coming-out experiences from a discourse-centered perspective. In this presentation, I will articulate the broader significance of this genre in the context of queer history, review prior research on the genre-specific features of coming out narratives, as well as present my own research that analyzes the process some LGBTQIA+ individuals go through to learn to tell their stories on university-sponsored speaker panels. Drawing upon qualitative analysis of field recordings and, more specifically, how many of the narratives include reportings (or "quotings") of specific moments from past interactions related where identities were disclosed.
Keywords: Queer, Wellness, Advocacy, Intersectionality, History/Herstory
LEAD Credit: Media Literacy
Rebirth Between the Lines
Presented by:    Cassandra Williams, GSRC Student Coordinator, PR Officer of Poetry Slam Association & Gabe Membreno, President of Poetry Slam Association, SUNY Oneonta
This interactive presentation will begin with a group spoken word piece based on LGBTQIA+ perspectives with a focus of people of color within the community. After the piece, there will be an open space given for conversation around certain events in our community, especially around what's been covered in recent news in the United States and globally. There will also be a section of time for a micro-workshop on how to use words as power through poetry writing.
Keywords: Queer, Mental Health, Advocacy, Intersectionality, History/Herstory
LEAD Credit: Effective Communication
Share Your Pride: Creating LGBTQ+ Affirming Environments [Professional Track]
Presented by:    Ryder Galvin, LGBTQ+ Living Learning Community Peer Mentor; Jarvis Marlow-McCowin, Assistant Director of the Multicultural Center; Mairéad Murray, Residence Hall Director; Adam Spangenberg, Campus Pride President, SUNY Delhi
The purpose of our presentation/workshop is to highlight efforts at SUNY Delhi that are designed to intentionally support the identity-consciousness of LGBTQ+ students. Areas of discussion are, but not limited to, residence life, multicultural affairs, student activities, and faculty/staff development. In addition, we will also share data from our SafeZone program, including possibilities to enhance the program. Through various reflection activities, we will explore the ways in which ourselves, our campuses, and our world, can truly be equitable and socially just living and learning environment for all.
Keywords: Transgender, Queer, Allyship, Advocacy, Mental Health
LEAD Credit: Social Responsibility
Harvesting Humanism Through Allyship [Professional Track]
Presented by:    Klarisse Torriente, Prison Education Coordinator & Nazely Kurkjian, Coordinator of Disability, Diversity & Nontraditional Student Services, SUNY System Administration
This workshop will begin with a brief historical overview of intersectional allyship, in the context of the United States. The presenters will provide an interactive forum to explore a humanistic, approach to what allyship looks like on college campuses, and throughout higher education administration. This workshop is intended for persons of all sexual orientations and gender identities with a heightened focus towards folks within the majority. Participants will learn simple to systemic approaches for supporting equity and inclusion for the LGBTQ+ community.
Keywords: Allyship, Advocacy, Intersectionality, History/Herstory
LEAD Credit: Social Responsibility
 
Thank you to our sponsors: The Gender and Sexuality Resource Center (GSRC), Gender and Sexuality Alliance (GSA), the Office of Student Life & Leadership @ Hunt College Union, Office of Equity & Inclusion, Department of Women's and Gender Studies, Office of Continuing Education, Office of Residential Community Life, Sodexo, Activities Council, Student Association, Public Events Committee, and the SUNY Oneonta Alumni Association with fiscal support from the Fund For Oneonta at SUNY Oneonta.
If you have any questions, please contact Emily Phelps, Chair of the SUNY Pride Conference Committee, at Emily.Phelps@oneonta.edu.