Peer Mentors help new students adjust to college life, overcome obstacles in their education and in their lives, utilize campus resources, and take part in a college living environment. Peer Mentors help with airport pickups, Orientations, and provide guidance to new students throughout the first semester.
Office of International Education Peer Mentors for Spring 2020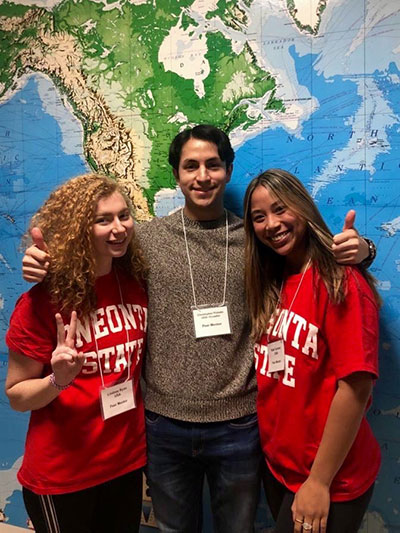 Christopher Pintado
Year: Junior
Major: Geography and Spanish
Email: pintcj99@oneonta.edu
About me:
Hello! My name is Christopher, and I was born in Cuenca, Ecuador where I lived for 11 years. Now I live in Monticello, New York, and I plan on going back to my homeland for some time after finishing my studies at SUNY Oneonta!
Something on my bucket list:
1- I really want to travel down the South American highway-starting in Quito, Ecuador
and ending in Bueno Aires, Argentina!
2- Visit Jerusalem, Israel
Why I wanted to become a peer mentor:
I love helping others, especially with acclimating to a new country. Since I was once in the same situation, being a peer mentor is one way for me give back the same guidance and help that I once received. I want to serve as a friend, and at the same time, learn a little bit about another person's culture and story.
Advice to new international students:
I would advise you to embrace your eccentricities by showing who you are and where you come from!

Lindsey Ryan
Year: Senior
Major: English
Email: ryanl63@oneonta.edu
About me:
My name is Lindsey, I'm 21 years old, and I'm a senior here at SUNY Oneonta studying English. I love art, nature, and reading. Over the summer I studied abroad in Athens, Greece which showed me how much I love interacting with different people and cultures!
Something on my bucket list:
1- Visit every continent
2- Visit the Pyramids of Giza
Why I wanted to become a peer mentor:
To me, being a peer mentor means that I ease international students' anxieties by being knowledgeable and friendly. My role in these students' experience at SUNY Oneonta should help ensure that their time with us is positive one that they gain real life experience from. Making people feel secure in their place on our campus is one reason I wanted to be a peer mentor. Another reason I wanted to become a peer mentor is make new friends with new perspectives on the world so that we can all learn something.
Advice to new international students:
Don't forget to be yourself! Even if it seems that a lot of people are different from you are there's no reason to change who you are. Trying new things is essential, but don't think that you have to change to fit in with people. It's important to remember that "different" isn't bad, it's what makes you unique! Be proud of who you are and where you came from, so many students on our campus will be just as excited to learn about your culture as you are to learn about ours!
Kate Carraro
Year: Junior
Major: Early Childhood/Childhood Education
Email: carrka24@oneonta.edu
About me:
My name is Kate and I am from Long Island, NY. Last semester I studied abroad in Madrid, Spain. I traveled to seven countries and eleven cities within Europe. I met some amazing people and created memories of a life time. After college I hope to become an elementary school teacher.
Something on my bucket list:
1- Travel throughout Italy with my mom
2- Pursue my Master's Degree in Special Education
Why I wanted to become a peer mentor:
I wanted become a peer mentor to gain a fulfilling experience. I enjoy helping and making positive impacts on the lives of others. As much as I want to be a resource for the new international students, I also want to create new friendships and learn more about their own cultures.
Advice to new international students:
Keep an open mind during this whole experience! Push yourself to try new opportunities. Do not be afraid to go outside of your comfort zone. Whenever you have questions, feel free to ask! Most likely, there is someone else who is in the same position as you. At SUNY Oneonta there are so many people willing to help. Lastly, I recommend journaling or recording your experience while studying abroad. This is something you can cherish and look back to when your travels are over.